Get Dirty Dirt to focus on TM Racing Sales
Most everyone knows that we have been racing and selling TM Racing Motorcycles for the past three years. We love these bikes and have had  great success with them during this period. It was also three years ago that we stopped selling Beta Motorcycles, but we continued to support the brand and maintained a large inventory of Beta parts and accessories that we sold both in house and on line. Unfortunately over the past year we have seen a steady decline in these sales, while TM sales have steadily increased, the cost of maintaining the Beta inventory and the large number of Beta parts in our on line store no longer makes since so we will be making the following changes.
Reduced number of Beta items in our On-Line Store
Reduced Beta inventory at our main location
Increased number of TM Parts and Accessories in our On-line Store
Big increase in TM inventory at our main location
We will continue to support our customers with Beta Motorcycles including bike and suspension services and all of the current parts and accessories that will now carry will still be available it just may take a little longer. To our current and future TM Racing customers this will mean an increase in parts availability, and a commitment to develop a wider range of accessories for the brand, and as always we offer complete bike and suspension service for every TM Racing Model.
2018 Season Update
During the 2018 season we have been racing an MX450FI four stroke in the So Cal OTMX series. We wanted to get the TM four stroke out so people could see that they very competitive with the other brands of four strokes in the market. There have been 12 races so far this year and we have been to 10 of them. Our results for the 10 races are 6) 1st, 2) 2nd, 1) 3rd,and 1) 4th, not to bad for my first year on the four stroke. In addition to these we also competed in one SRA Gran Prix which we won, and One ARX race which won two classes, one on the 450 and one on the 300 2-stroke. We also ran a three hour endurance night race in conjunction with Mike Smith and rode an MX300FI four stroke to victory. All in All 2018 has been a very good year for Get Dirty Dirt Bikes and TM racing.
Fox Shocks Abandons Off Road Market
Fox has decided to no longer build off road motorcycle shocks. This is a big blow to Beta owners especially X-Trainer owners. I have no information as to why this decision was made but it is unfortunate that a really great shock will no longer be available.
Fortunately for Beta and TM owners alike Ohlins still has aftermarket shocks available and they will be making another run of X-Trainer shocks this month. If you are looking to update the rear suspension on your X-Trainer don't hesitate once they are available as Ohlins will only make a small amount and then it will be a while before they make another run.  The other alternative for X-trainer owners is to have your stock shock revalved and properly sprung for you weight. We have some very good settings that really help out the stock shock.
 2017 Season Update



So we started out thinking we were going to race the AMA national Hare and Hound season but somehow managed to get involved with the OTMX series instead and having been racing at the track the entire year. We are currently holding down 2nd place in the Over 60 Expert Class and are in the top 20 overall for the series. Not bad considering we missed the first five races of the series. We also did the 10HR endurance race at Glen Helen winning the over 40 expert class and we will be riding the 24Hr race next month. Still coming up is the OTMX International, the Vet Nationals, and the MTA 2 stroke Nationals all at Glen Helen.
The TM300 has been ultra dependable through all, it now has 142 hrs on it and the only maintenance other than oil changes, filter cleaning, and regular suspension service has been a Piston at 109hrs, Exhaust Valve Cables at 59hrs and again at 90hrs and a chain and sprocket set. The bike still runs great and handles like new.

2017 Season about to begin for Get Dirty Dirt Bikes
It is going to be a busy year for us this year as we begin the racing season. Get Dirty Dirt Bikes will be at the local  AMA National Hare and Hound Events in support of  Get Dirty Dirt Bike Rider Walter Marienschek . In addition we will provide limited support to anyone racing a TM Brand Motorcycle at these events. We will also be competing at the Glen Helen Endurance series and Most of the OTMX races throughout the year. Other Events include the MTA 2 Stroke Nationals and Vet Nationals at Glen Helen Raceway.
We are looking forward to showcasing these great bikes throughout the year as TM Racing begins to make inroads into the Desert Racing Venues. Our 2016 EN300 Shop bike now has a full season of racing under it's belt and a total of 106 hours. It has been ultra reliable and required only regular oil changes and one set of cables for the exhaust powervalve. We installed new Pro-X Piston and rings and a new top end bearing and we are ready for the new year.
Best Offroad Jackets for Fall Riding
Fall.  This time of year provides some of the best single track and trail riding experiences.  The changing of the foliage from green to more vibrant colors makes for some of the most scenic rides.
But the fall also presents a wide spectrum of temperature and condition changes that your summer jersey isn't meant to handle.  That's where offroad jackets come in to play.  These versatile and durable jackets are designed to hold up to the abuse that occurs during offroad riding.
Jacket options for this niche of riding were slim until just recently.  With the ADV boom, more and more riders have been getting introduced to wonderful world of single track riding.  But traditional ADV gear is too cumbersome for the active style of off road riding. Most ADV gear is feature rich, making it decent for only easy trips off road.  Fortunately, many of the top brands have taken notice and are now developing purpose built jackets for offroad riding.
Top offroad specific jackets need to be light and flexible to allow for maximum mobility on the bike.  Ample ventilation is necessary to keep cool when you're working hard through complex trails.  Breathable fabric is also a huge plus to keep you cool and dry.  The fabric also needs to be durable and tear resistant.  Offroad jackets should be compatible with body armor or come with its own.  They should also be water-resistant at the least to help keep dry in the changing conditions of fall.
Listed below is one of the best offroad jackets available today.  It has many, if not all, of the features necessary to make a good offroad jacket.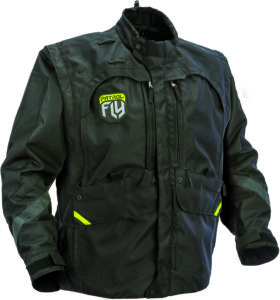 As mentioned earlier, versatility is essential for a fall offroad jacket.  The conditions are ever changing.  Knowing this, Fly Racing created one of the most versatile offroad jackets on the market.  The Patrol jacket can be converted into a variety of different configurations to accommodate any conditions that you may encounter during a full day of riding.  The Patrol isn't new to the market, but the latest iteration has some nice upgrades that make it stand out.
This jacket provides massive ventilation options to keep you cool when things start heating up.  The ventilation can be customized by using the two large tuck-away chest vents, a tuck-away full back vent and the zippered sleeves, which allow the jacket to be turned into a vest.  A rear cargo compartment can be used to store the removed sleeves and to tuck away the back vent when it is unzipped.  The jacket can also be folded into itself with the rear compartment and can then be worn as a fanny pack.  The jacket also includes ample storage options, providing space for all your things.  The shell is built with an ultra-durable nylon construction.  Key areas are reinforced with ballistic nylon.  Elbows are further reinforced with heavy-duty panels.
We all need batteries for our motorcycles or powersports vehicles, but you can spend from under $50 for a traditional lead-acid battery to over $250 for a modern lithium-iron unit. Lithium batteries are definitely high-tech, but is it really worth it to spend all that extra cash? Check out the full article to find out! 
Cruiser, dirt bike, scooter, UTV, or even watercraft, one thing every single type of vehicle we serve is that they all need batteries. If you're on this site, you have a ride that needs one. The hard part? Figuring out which one is the best for you and your money.
Not too long ago, you only had one choice, and that was a lead acid battery – basically a heavy box filled with lead plates and sulfuric acid that reliably created enough power to start everything from a 50cc scooter to a Mack truck. But in the last several years there's been a revolution in the technology of portable power, and now lithium – the lightest metal in the universe, and soft enough to be cut with a knife – is powering everything from cell phones to solar homes.
Lithium-based batteries are new and high-tech, but they aren't exactly cheap compared to tried-and-true lead-acid batteries. So are they really good enough for you to drop all the extra coin on one?
The short answer: yes, they are. But there are some conditions, so read on and see if they are really right for you.

Are lithium-based batteries really that much better than lead acids? Yes, they are – but there are some conditions.
Myths & Facts About Lithium Motorcycle Batteries
You've probably heard some of the myths about lithium batteries: they spontaneously explode, don't work in cold weather, and they are just overpriced gimmicks that do the exact same thing that lead-acid batteries do. Sound familiar?
Well, before you write off a lithium-based powersports battery because of internet hearsay, let us explain to you why none of this is quite true.
First off, lithium batteries have been known to catch fire when they are treated improperly – but these are lithium-ION batteries, the kind you find in small devices like cordless tools and RC cars. Powersports batteries are lithium-IRON-PHOSPATE batteries (also referred to as LiPo or LiFEPo batteries) that are far more chemically stable.
They also do work in the cold down to around freezing temps; but their chemistry requires that they be warmed up before use, which can be done by cranking them several times or running the headlights for a few minutes. They actually get stronger with each crank as the battery "wakes up."
But are they really "expensive gimmicks that do the same thing that lead-acid batteries do?" Well if all you're referring to is them starting a vehicle, then yes, that is true. But how well they do it, and how long they will do it for, is a different matter entirely.
What Makes Lithium Powersports Batteries So Damn Good
Ok, so we know both kinds of batteries will get your vehicle started reliably – so why spend any more money on a lithium?
They last longer. Lead-acid batteries can last 500-1000 cycles in optimal conditions, but in real world use, 100-300 cycles is a lot more typical. Lithium-iron batteries will go 2000 cycles no problem, and can go up to 5000 when treated right. In other words, you'll go through several lead-acids in the time it takes to wear out one lithium-iron – meaning lithium-iron batteries truly do pay for themselves.
They hold a charge better. Lithium-iron batteries have a remarkably low self-discharge rate, losing only about 10% of their charge a year. Compare that to lead-acids, which lose about 1% of their charge a day.
They crank harder and longer. Lead acid batteries are considered "dead" at between 50-70% charge – once they hit that mark, they're useless. Lithium-iron batteries discharge full power until they are completely discharged, so they give fast, powerful cranks right up until they're dead.
They are super light. If you're a performance rider and trying to save weight, you simply need to have one. For example, an OEM battery from a newer sport bike weighs about 8 pounds, but its lithium replacement will weigh only about 1.5-2 pounds – an impressive weight savings of 75-80%.
They are much safer. Not only will they not catch fire, but the "dry cell" construction of lithium-iron batteries eliminates the use of poisonous lead and harmful sulfuric acid. They can be mounted in any direction, and will never leak acid.
Much better warranties. Most lithium-iron batteries have impressive warranties, with 3 years being the norm. Most lead-acid batteries have shorter warranties of a year or less.
So yes, they're better batteries, plain and simple. Ready to find one for your own vehicle? Check them out here.
What Are The Drawbacks?
While lithum-iron batteries are superior batteries and the best choice for most riders, they may not be the ideal battery for everyone. Here are a few drawbacks that may make a lead-acid better for you and your situation.
Obviously, there is the cost. Lithium-iron batteries cost $75-300, compared to lead-acids, which cost around $50-100. If you care more about getting the cheapest than the best, then don't even think about a lithium and go straight for lead-acids.
In addition, they should be used with a special charger, which of course, is an added cost. Lithium-iron batteries can be charged with standard chargers, but they won't be calibrated to the same voltage requirements (lead-acids charge to around 12.8 volts, while lithium-irons need 13-14.) The best way to protect your investment is to use a lithium-battery specific charger.
In addition, parasitic draw from accessories (like alarms) is harder on them than it is on lead-acids. If you have a bunch of gadgets draining power on your bike, stick to lead-acid batteries.
Finally, if you ride in cold weather, a lithium-iron battery will work, but it may annoy you to have to go through the warming up procedure. For our customers who ride ADV and touring bikes logging high miles in warm weather, we suggest a sealed AGM battery instead, which is like lead-acid technology on steroids, and super reliable.
If you ride in conditions like these, the hardier nature of a quality lead-acid battery will be a better choice for you. 
Beta OEM Parts Update

Most everybody knows that Get Dirty Dirt Bikes is no longer an Authorized Beta Dealer, we do however continue to support the brand and are always working on new accessories and suspension settings for the RR, RS & X-Trainer models. We have also tried to continue to supply OEM parts to our customers, however due to an ever increasing number of back orders and slow deliveries of these parts we have decided to no longer supply Beta OEM parts.
Get Dirty Dirt Bikes will continue to be the best source for aftermarket parts and accessories for your Beta, and we will continue to service Beta Motorcycles. I am currently working on an Inventory of all the Beta OEM parts that we have in stock and we will add a page to our on-line store to sell all of the remaining inventory at bargain prices. Should be posted by Monday 8/22/16
TM RACING EN300 Shop Race Bike Update
We are right at 70hrs on our bike and have used it for the JBR 6 Hr Endurance Race at Glen Helen and the JBR 10 hr Endurance race at Glen Helen and the Idaho City 100 ISDE Qualifier. The bike has been absolutely stone reliable to this point with the only part failure being the exhaust valve servo cable at 59hrs.
We have made a few modifications mostly for rider preference and to test some aftermarket products and right now I would have to say this is the best handling and fastest 300 I have ever ridden. Here is a list of the mods we have made to the bike.
 Race Tech Gold Valves and Re-Valve to improve handling in rocky terrain.
 VHT cylinder head for smoother power delivery and cooling
 Scalvini pipe and Pro Circuit Spark Arrestor
 Fasst Company Flex Bars
 G2 Ergonomics Throttle Cam System
 Fastway Hand Guards
ARC Unbreakable Memlon Levers
Moto Seat Cover
Billet Aluminum Clutch Cover
Beta OEM Parts Update
Many of you know that we are no longer a Beta Authorized Dealer which means that we no longer have direct access to Beta OEM Parts. We have however worked out with some other Beta dealers an arrangement that still allows us to support our Beta customers. It has caused one issue that we can't control however, most Beta dealers don't order parts from Beta USA on a daily basis like we did so there have been delays getting OEM parts. Another issue is the popularity of the Beta brand is catching up with the distributor and many more parts are back ordered than in the past. We will continue to offer the best service possible to our Beta customers but please allow a few more days than in the past.  On a brighter note we have found a number of new accessories for the Beta Brand and we will continue to offer the best Beta accessories available, while there may still be occasional back orders it is much easier for us to deal with it because we buy these parts direct or through other distributors and do not rely on Beta USA.
TM EN300 Race Bike Update
The new TM Racing EN300 is really coming along nicely. Our first National Hare and Hound will be in April in Murphy, Idaho. Really looking forward to racing the new bike and wanted to give everybody an update on the changes we have made so far. Most of the changes are rider preference and include the following:
Fasst Company Flex Handlebars 12 Degree Enduro Bend
Arc Composite Levers
Ribbed Seat Cover
Cross Pro Aluminum Skid Plate
Scalvini Exhaust Pipe
Meca Systems Carbon Pipe Guard
Pro Circuit Spark Arrestor
48 Tooth Rear Sprocket (Stock is 50)
Can't wait to get back to racing and love the new bike, we will also be racing the Glen Helen Endurance races this year and the 6hr race will be March 13th.
Get Dirty Dirt Bikes Makes Switch to TM Racing EN300
for the 2016 season.
We will be racing a 2016 TM Racing EN300 for next year in the AMA National Hare and Hound Series and a number of other select events like the Endurance Series at Glen Helen Raceway and the ISDE Qualifier in Idaho City.
We are extremely happy with the new bike and the support we are getting from Gravity TM Racing the US Importer of TM Motorcycles. Over the next two months we will be testing a number of suspension settings and TM accessories as well as developing new parts for the bike. We will pass on all of the settings we come up with here once they are proven to work.
Here are a few pictures from our first outing with bike.
Colorado 1000 2.0
So I just got back from a great 8 day trip to Colorado for a non-guided dual sport ride. The ride was organized by gpsKevin. The ride started and finished in Durango and in between we stayed in South Fork, Salida, Almont, and Ouray. Each of these towns has it's own personality and are very nice but my favorites were Almont and Ouray. Almont is where we stayed in cabins for two days, during our stay there I took a day off from riding and went white water rating. You could also choose to go fly fishing with an instructor if you wanted to learn the art of fly fishing. Ouray is like a small town in Switzerland, it is friendly, has great food and the scenery is amazing.
Here is how a trip with gpsKevin works, he supplies GPS tracks, large trail maps, and  small maps for the ride. He also hauls your gear to each destination and has a van equipped with some spare parts, air compressor, and battery charger. He is available for advice about trail selection and always has something in the cooler for you when you get back. He also takes care of all the lodging along the way. The ride is your responsibility, you choose the route, your riding buddy or buddies, and set the pace. The tracks are color coded by intended route, ATV tracks, single track, and easier bypass routes. This ride was intended for intermediate to advanced riders and much of the single track was tough but really fun. There is no guide or sweep for the ride so a well prepared bike is necessary and you should be very familiar with your GPS. There was 1000 miles of tracks and as can be expected there was some closed trails so you have to prepared to find alternate routes, Kevin also supplied road maps of the area in the GPS download so you can zoom out and find an alternate route. I believe he has found the perfect way to organize a trip and not have the cost not get out of control, the ride was both fun and affordable.
My advice to you, if you like to dual sport ride, is look up gpsKevin and do one of his rides!!
Two Stoke Pipes
Did you know that there are a number of choices for 250RR and 300RR exhaust systems. Although the 4-stroke guys are pretty limited to FMF systems the 2 Stokes guys have choices from FMF, Pro Circuit, and Scalvini. Each of these systems work well and each has it's strong points, my favorite is still the Scalvini for both looks and performance but the Pro Circuit is very good if you are looking for mid to top end performance. If you are looking for bottom end lugging power the FMF Knarly is your choice. The other good news is each of these guys offers a full variety of silencers and spark arrestors so you have lots of choices. For Spark arrestor we like the FMF Q shorty but if you want really quiet without any significant power loss you may want to try the Pro Circuit Type 296. If you spend all your time at the track or an area where sparky's aren't required I love the Scalvini Carbon Shorty. See you at the track BRAAAAAAAAAAAAAAAAP!
X-Trainer Accessories
We have most of the new accessories for X-Trainer in Stock now, including shock and fork springs. We are working on new accessories as well including a Skid plate. The 250/300 RR skid plate will work but requires modification in the footpeg area.
We are also stocking ProX pistons for both the two and four strokes as well as clutch packs. We are offer Crank Rebuild Kits for the two strokes.
You can find all of these and more in the new products section of the On-Line Store http://shop.getdirtydirtbikes.com/